Mission & History
The Appalachian Community Development Association's Organizational Mission
To promote the social, educational and cultural development within the Appalachian Community of the Greater Cincinnati and the Larger Appalachian Region. We strive to improve self image and encourage the best of Appalachian values while creating understanding and appreciation of our cultural heritage.
Organizational History
The Appalachian Community Development Association (The A.C.D.A.) began as an outgrowth of the Junior League of Cincinnati, who sponsored the Appalachian Festival from 1970-1974. Since 1975, The A.C.D.A. has produced the Appalachian Festival. The organization's directed by an all-volunteer Board of Trustees, with at least at least 75% of those members being of Appalachian descent. The Appalachian Festival has been held annually during Mother's Day weekend attracting at least 10,000 visitors, with an additional 1,000 school children taking part in "Education Day", which is the first day of the festival each year.
Popular Appalachian Festival Began As Junior League Project
After World War II and through the 70s, people fled Appalachia in search of a better life for their families. Cincinnati's proximity to Appalachia and the job opportunities that the city offered encouraged many migrants to settle here.
Ernie Mynatt and the Junior League saw a need to bring the Appalachian culuture and traditions to local communities. This vision turned into the Appalachian Festival focused on exhibiting the various talents of these Appalachian Migrants.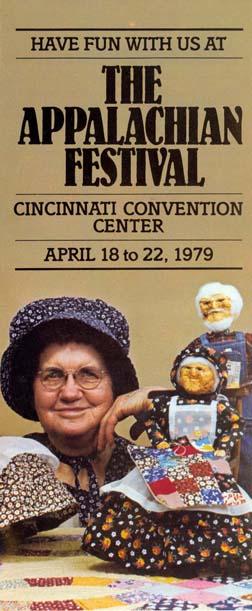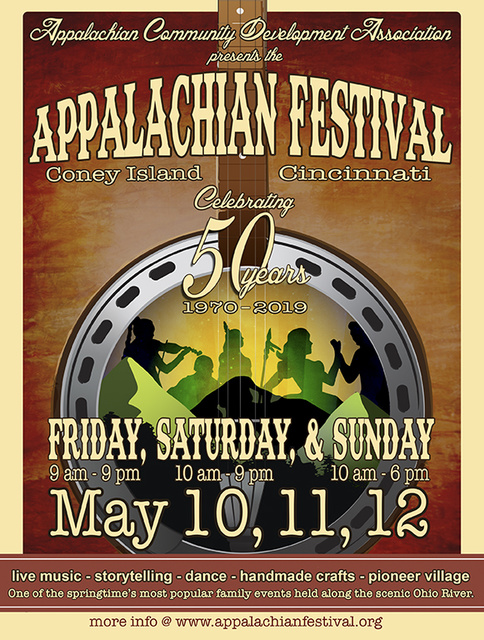 (CINCINNATI, OH) -- What has become one of Cincinnati's most popular annual festivals -- The Appalachian Festival-- began 51 years ago in the basement of Cincinnati's Music Hall as a quaint crafts' exhibition developed by the Cincinnati Junior League.
Today, the Appalachian Festival draws nearly 15,000 people over the three-day event to Coney Island on the shores of the Ohio River.
The goal was to create an event in Cincinnati that would raise awareness of the Appalachian culture, and to have the event ultimately managed by the Appalachian community itself. And, indeed, the Junior League would help establish the Appalachian Community Development Council (ACDA), the organization that took over management of the event in 1975.
The first Junior League Appalachian crafts' exhibition in 1970 was a success -- for months prior to the event organizers had searched the mountain hollows of Appalachia to track down authentic artists and crafters.
As the event grew in popularity, so too did the need for more space to accommodate visitors. From the basement of Music Hall the event would move over the next two decades to a more spacious Music Hall ballroom, then to the Cincinnati Gardens, the Greater Cincinnati Convention Center, and in the mid-80s, to its present site at Coney Island.
Today, the Appalachian Festival is bigger and better than ever... with more than 90 crafters, dozens of entertainers on two stages, cultural and educational programs.
The Appalachian Festival is sponsored by the Appalachian Community Development Association, a nonprofit organization promoting awareness of and appreciation for Appalachian culture. Proceeds go toward grants to organizations involved in Appalachian life.